ON VIEW // A GUIDE TO JANUARY EVENTS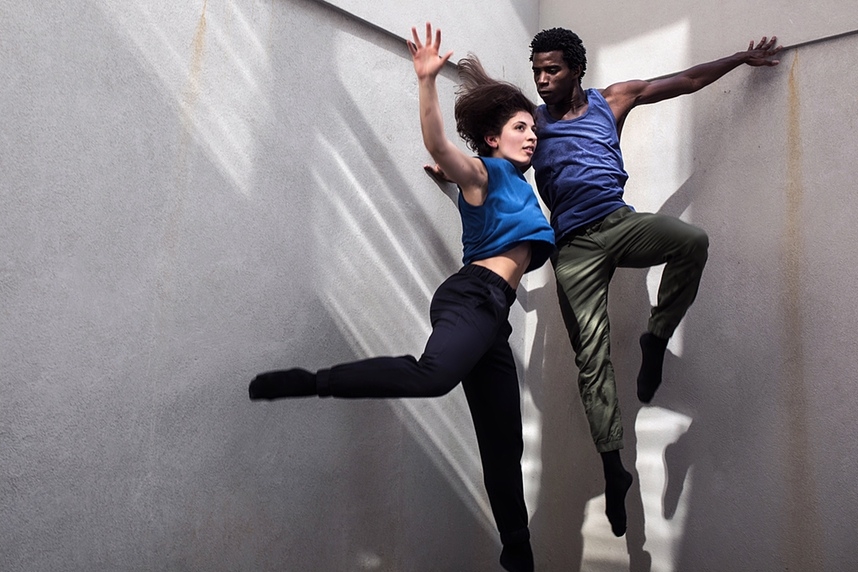 THROUGH TIME
Year after year, we've watched former TCS-presented artists deepen and further invest in their practice. While we continue to observe attentively, we've gathered a few for you to perhaps discover and crush on for the first time.
This weekend, if you find yourself uptown, you can guarantee Yin Yue Dance Company to present a full-bodied and ferocious work, as part of Dig Dance: Open Doors, a showcase for 92Y artists-in-residence (Jan 7, 8pm - 92Y, Buttenwieser Hall). Seattle-based Kate Wallich + The YC, as well as MADBOOTS Dance present in On the Boards and Velocity Dance Center's A Pacific Northwest Platform (Jan 7 + 8, various times - Gibney Dance 280, Studio X), while Pittsburgh artist Maree ReMalia, with HyunJung Lee, show alongside a Boston-Pittsburgh mix of makers (Jan 7, 7:02pm - Gibney Dance 890, 5th fl).
Dante Brown | Warehouse Dance locates "the inherent loop holes, missing bridges, and unspoken rules that dictate who has access to a world" in Somewhere (Jan 8, 2:25pm - City Center, Studio 5). Following, head over to the Peridance showcases to check out intricate choreographies by tedted performance group (Jan 8, 4:30pm, Program A), as well as Joe Monteleone, and Roya Carreras + Artists (Jan 8, 7:30pm - Peridance Capezio Center, Program B). In A Hero's Journey, Nicole von Arx brings bodies together in an entanglement of cross cultural and intergenerational experiences (Jan 9, 9:30am - City Center, Studio 5). Need a break from all the dancing? Exercise your thoughts at Shift/Shape, as Tara Aisha Willis moderates a conversation on racial politics, identity, and the black bodily experience in performance (Jan 9, 11am - American Realness, Abrons Arts Center). Rather stay away from the APAP frenzy? Then head over to Fresh Tracks the following weekend and get moved by Ashley RT Yergens, Jessica Pretty, and Sophie Sotsky, as each artist tackles a sense of survival (Jan 13-14, 7:30pm - New York Live Arts).
As it's almost impossible to track every artist in this little blurb, any artist with an asterisk (*) next to their name in the noted below are former TCS-presented artists.
GET WOKE
These artists have been making work that matters, especially post-election. Get woke and get moved by entering into an environment where oral histories are told of deceased Syrian activists and protesters in Tania El Khoury's Gardens Speak (January 6 to 9, various times - Under the Radar, NYU Tisch School of the Arts Abe Burrows Theatre).
A panel with white-identified artists, presenters, and funders discuss "how white aesthetic supremacy structures the evaluation and reception of contemporary concert dance and experimental performance," cultural appropriation, as well as equity and inclusion on casting (Jan 7, 11am - American Realness, Issue Project Room). Stay longer and catch a discussion between Native American choreographers on "the state of Native American performance work across the US and the epidemic of institutional negligence, insensitivity and attempted erasure of and towards Native American / Indigenous / First Nations' values, histories, and contributions to contemporary artistic practice" (Jan 7, 3:45pm - American Realness, Issue Project Room).
Ni'Ja Whitson questions loss at the height of the AIDS pandemic, the constructions of Black love, and queer masculinities in A Meditation on Tongues (January 7 to 9, various times - American Realness, Abrons Arts Center). And talk about being real: in Keith Wallace and Deborah Stein's The Bitter Game, a solo performance questions what it means to be black in America (January 6 - 9, Under the Radar, The Public: Anspacher Theater).
MUST-SEE
"Presenting a new critical position on postmodern dance aesthetics emanating from the Judson Church period," Trajal Harrell mixes up postmodern dance with voguing in Twenty Looks or Paris is Burning at The Judson Church (Jan 7, 10, various times - American Realness, Abrons Arts Center). 600 Highwaymen yet again challenge the audience experience (and willingness) in The Fever both individually and collectively, by recognizing the assemblage and care that is lent - or not - to and from the bodies around us (January 9, 11, 15, various times - Under the Radar, The Public - LuEsther Hall).
Through Balkan folklore, experimental dance, and rhythmic text, Will Rawls, with musician Chris Kuklis, embody self and other in The Planet-Eaters: Seconds (January 9, 10, various times - American Realness, Abrons Arts Center), while children whisper their description of a film that audience members are unable to see in Britt Hatzius' Blind Cinema (Jan 9 to 12, 5:30pm - COIL Festival, SVA Theatre). Former Batsheva dancer, Bobbi Jean Smith*, looks to the emotional and the metaphoric with violinist Keir GoGwilt in A Study on Effort (January 12 to 14, various times - COIL Festival, Invisible Dog). End January with Yara Travieso's* La Medea which mashes up genres with Latina-disco-pop and Euripides' violent tragedy (Jan 20 - 22, COIL Festival, Invisible Dog).